TTMADRS hired Buckley Consulting to analyze demand for a new senior living community with a continuum of care in an 11-zip code area centered around Durham and Chapel Hill. The area included much of Durham County, the southern part of Orange County, some of the northern part of Chatham County and a tiny bit of western Wake County.
The results show an unusually strong and growing demand for new independent living units, where there are very high occupancy rates and years-long waiting lists in the existing CCRCs in our area. There is more modest demand for additional assisted living units and a projected surplus of skilled nursing beds. Thus there is a clear need for more senior housing in our area. The demand is strong over the entire area, but the gap between existing plus proposed capacity and projected demand is especially great in Durham County east of the city center.
These very positive market study results were what we needed to proceed to the next step: developing a programmatic and business plan for the type of community we want to create, and finding the financing to move forward.
Our research included consulting with many knowledgeable people and organizations specializing in aging and community. This led to identifying a company we can trust: Action Pact. We engaged them to guide us through the process of creating a model community that guarantees autonomy, community, and care during the fragile stages of life while at the same time providing a vibrant and open arts village for all.

The Integrative Prefeasibility Analysis (IPA) team consisted of:
TTMADRS Board of Directors and Founders
About 60 of our 75 founders
Action Pact staff:

Steve Shields
Martin Dickmann
Chris Cole
The IPA team met for a total of six full days in the first quarter of 2018. In June, 2018, Action Pact returned to present a business plan.
IPA Planning Sessions - Round 1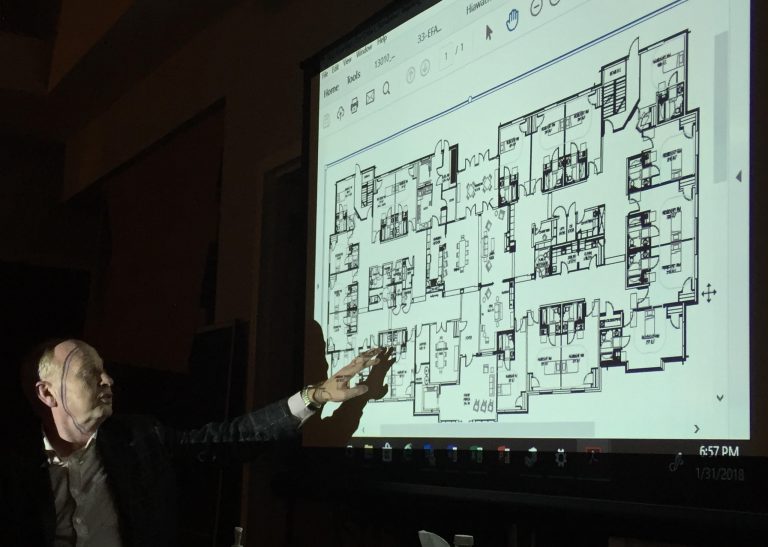 Our first round of IPA meetings was held January 30 and 31, 2018. Fifty-five of our seventy-four Founders attended.
Steve Shields (Action Pact) reviewed the IPA process. The process would produce a detailed plan of the project including pro forma, budget, renderings, financial benchmarks, and a schedule.
Action Pact led us through complex discussions of  business model possibilities (for-profit, not-for-profit, self-owned land company, separate operating company, etc.) with the goal of helping us determine the best way to secure the funds needed to move forward.
We looked at photos and floor plans of Household Model residences that AP had done, with AP asking what we liked/didn't like.
AP took several straw polls: Who would be ready to move in in 3 years? Who preferred and/or was willing to live in urban, suburban, or rural environment? Who wanted a 3-bedroom/2-bedroom/1-bedroom/studio residence?
Based upon these discussions, AP would return for a  2nd set of meetings in February with estimates to help answer how many living units on how much land on what schedule would be required to fund "common amenities" including Household Model units and a community/dance facility. Possible phasing of types of living units (independent living, assisted, and skilled nursing care) would be addressed.
Our consultants from Action Pact joined a large group of Founders for a second round of planning meetings on February 27th and 28th, 2018. They gathered a lot of information from us, using small learning circles, polls, and large group discussion. It was challenging to winnow out  wishes from our needs, and to ponder what one wants versus what one is willing and able to pay for. We never thought it would be easy or simple; now we saw in detail how complicated and multi-faceted this exciting process is.
The Board reviewed the data collected and tackled putting it in some order to mesh with the analyses our consultants were doing back in their offices. We created a spreadsheet of  the parcels of land that we already knew about. When we are clearer about how much land we need and can afford, we'll engage an expert site locator.
One thing we know we need is more people! Costs are lower when spread out over a large group, so we need to engage in more marketing and outreach. It is important to reflect our openness to anyone who would like to live with lovers of music, dance, and the arts, whether or not they actively engage in those activities.
Please spread the word about us to friends and family, both in person and via social media. Feel free to share links to our website and Facebook page.. If you would like business cards and/or brochures, let us know by leaving a message here. Let's keep the buzz going!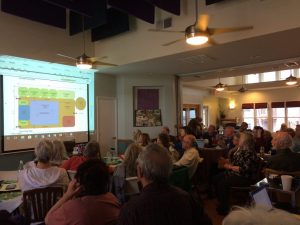 The third round of the IPA planning meetings, March 27 and 28, 2018, was packed with more information, lots of choices and decisions, and a preview of what comes next. 
Financial reality was one of the primary themes of this round. We explored the relative risks of different forms of financing this project. We dug into cost of building, maintaining, and staffing. We gave feedback on a possible design for a space that included a dance/performance hall, an eating and cooking area, and smaller rooms for classes and other activities.
Straw polls showed us that the Founders attending those two days were currently willing to donate and/or invest enough to get us started building.
Action Pact was scheduled to return the afternoon and evening of June 26, 2018 to present the Business Plan to all our Founders.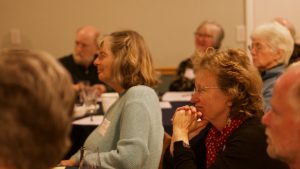 We held a special meeting with our Founders May 15, 2018 as a follow up to the 3 rounds of IPA planning meetings. It was an opportunity for everyone to raise questions arising from those meetings and to give feedback on how they want to proceed.
We are incorporated as a 501(3)c educational non-profit. In order to buy land, accept investments, and begin to build, we need to re-incorporate as a separate entity.
We asked Founders how they want decisions to be made as we move into the next phase. What role do they want the current (and future) board to play? How much input should Founders and Investors have into decision-making and should that input be based on the amount invested?
At first review, it seems that many people would like the board to have decision-making authority about most issues, with some exceptions, and that input from Founders/Investors should be somewhat proportional to financial investment. There were also requests that the process for selecting and retaining Board Members be more transparent.
We took all of this input seriously and began incorporating it into our planning.
Presentation of the Integrated Business Plan
On June 26, 2018 a meeting was held for all of our Founders and any others who had attended one of our Educational Workshops.
At that meeting Action Pact presented the Integrated Business Plan (IBP), the culmination of the 3 IPA meetings and many years of planning. This detailed plan provided a lot of information and guidance for all of us to digest.
Here is a small sample: