On June 26, 2018, Martin Dickmann of Action Pact presented the Integrated Business Plan (IBP) they developed for us as a result of six day-long meetings with our Founders.  A great deal of work has gone into the creation of this plan; much more work will be needed to craft a design and to begin construction.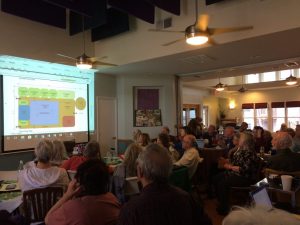 Here is a summary of the IBP:
Our overall goal is to create an arts village that supports older adults, which we will build in two or three phases. It will eventually comprise 150 homes and 40 spaces for those who require a spectrum of health care.
Common amenities — will eventually include the following:
Community Center/Wellness Center
Dining Venues
Dance Hall/Auditorium
Household Model of skilled nursing care
Gardens/Greenspace
Studios, practice and teaching spaces
Outpatient clinic
Phase 1 will include the following:
50 independent cottages, ranging in size from 750 to 1,500 square feet;
6 Adult Care Home units, providing levels of assisted living as needed;
A Music and Dance Center.
We'll add other amenities as finances allow.
We estimate that Phase 1 will cost $18.3 million.  Additional phases will be undertaken as resources permit.
The plan assumes that we create a new for-profit corporation (we're calling it LandCo for now) to raise equity (investments from us), which will be used to carry out pre-construction activities: land acquisition, entitlement, legal, architectural, and engineering fees.
Loans will then be secured for construction (including site work).
LandCo will retain ownership of the Music and Dance Center, the Adult Care Home, and all common land. Homes will be sold on a fee simple basis to residents.
We will not have a licensed skilled care facility at this time, so Medicare or Medicaid will not reimburse for care. Individual Long-Term Care insurance policies might, however.
We initially intended to build a Continuing Care Retirement Community. The more we learned, the more complications we discovered. Getting a license is expensive, bureaucratically complex, and not guaranteed. We'd need to have a lot of money raised and held in escrow. There are, however, some creative ways to provide similar care without the CCRC designation (by purchasing existing licensed "beds," for example).
Next steps in this journey include the following:
Form a development committee.
Create an initial investor offering for pre-development funding.
Solicit/secure initial investor commitments.
Create a developer RFP (Request for Proposal).
Carry out developer RFP process and developer selection.
Prepare a development plan that is site specific, simultaneous with site selection.
How long before we can move in? It depends on how quickly we can proceed and how long it takes us to raise the money we need to start. Estimates range from three to five years. The more flexible we are in our land choices, the sooner we can find land.
What we now have is a workable business plan, that allows for flexibility as we develop our community.