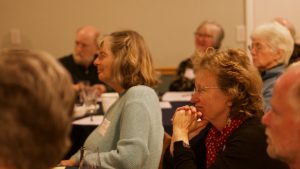 We held a special meeting with our Founders May 15, 2018 as a follow up to the 3 IPA planning meetings. It was an opportunity for everyone to raise questions arising from those meetings and to give us feedback on how they want us to proceed.
We began the meeting with a report from our Treasurer, Doug Shier. Founders and Friends have been so generous, we actually have a small sum left over after paying for a market study, legal and accounting fees, and the many hours of work by our consultant, Action Pact. We have decided to set some in reserve and we anticipate greater costs on the horizon. It's almost time for more fundraising. Stay tuned for that!
We are currently incorporated as a 501(3)c educational non-profit. In order to buy land, accept investments, and begin to build, we will re-incorporate as a separate entity. For now, we are calling that "New Co" until we decide on a better name.
We asked Founders how they want decisions to be made as we move into this new phase. What role do they want the current (and future) board to play? How much input should Founders and Investors have into decision-making and should that input be based on the amount invested?
We are still collating those responses. At first review, it seems that many people would like the board to have decision-making authority about most issues, with some exceptions, and that input from Founders/Investors should be somewhat proportional to financial investment. There were also suggestions that the process for selecting and retaining Board Members be more transparent.
We are taking all of this input seriously and incorporating it into our planning.