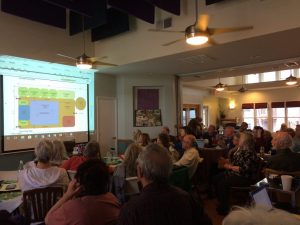 The third round of the IPA planning meetings, March 27 and 28, was packed with more information, lots of choices and decisions, and a preview of what comes next. Action Pact will return the afternoon and evening of June 26 to present the Business Plan to all our Founders. We are planning to add a presentation for all others who are interested in what we are doing. We'll post and send details soon.
Financial reality was one of the primary themes of this round. We explored the relative risks of different forms of financing this project. We dug into cost of building, maintaining, staffing. We enjoyed seeing and giving feedback on a possible design for a space that includes a dance/performance hall, eating and cooking area with smaller rooms for classes and other activities.
Straw polls showed us that the Founders attending those two days are currently willing to donate and/or invest enough to get us started building.
Are you wondering where we will build?
People often ask us: "Do you have land yet? Where will it be?" The size and type of land will depend on so many factors that it is premature to choose a location. We don't yet know how much land is needed or how much we can afford. For example, the more people who commit to signing up, the more land we can afford and the lower our individual costs will be.
We aren't waiting for the completion of the business plan by Action Pact to move forward on these crucial steps:
The board continues to consider optional names for our community. (Thanks for all your suggestions!)
Form a second corporation, suitable for accepting investments and developing the project.
Spread the word about what we are doing to attract more people. This may require hiring a marketing professional.
Find and hire an attorney to 1) draw up legal documents for those who want to invest in the land to get the project started and 2) to provide the non-binding letters of intent for those who plan to be the first to live there.
Raise more funds to pay for legal and marketing professionals. We have almost exhausted the funds donated for the business planning with Action Pact. We raised enough money to cover a number of expenses in addition to the IPA with Action Pact thanks to your generosity. Future expenses will be considerable for the legal and development aspect of the project.
We'll keep you posted as we work to move us all forward toward our shared goals.
Bree Kalb
on behalf of the Board of TTMADRS