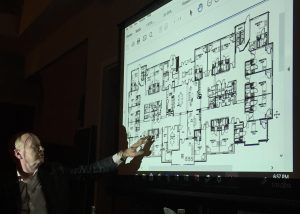 Our first round of IPA meetings were held Jan 30/31. 55 of our 74 Founders were able to attend. We'll meet for the second round late in February.
Steve Shields (Action Pact) reviewed the integrated pre-feasibility analysis (IPA) process. The process will produce a detailed plan of the project including pro forma, budget, renderings, financial benchmarks, and a schedule.
Action Pact led us through complex discussions of various business model possibilities (for-profit, not-for-profit, self-owned land company, separate operating company, etc.) with the goal of helping us determine the best way to secure the funds we need to move forward.
We looked at photos and floor plans of Household Model residences that AP had done, with AP asking what we liked/didn't like as we looked at them. They asked us to individually put together collages of photos (from magazines and websites) of interior and exterior design features that appeal to us, and to bring these to the next IPA session.
AP took several straw polls: Who would be ready to move in in 3 years? Who preferred and/or was willing to live in urban, suburban, or rural environment? Who wanted 3-bedroom/2-bedroom/1-bedroom/studio residences.
Based upon these discussions AP will come to the 2nd set of meetings in February with estimates to help answer questions of how many living units on how much land on what schedule will be required to fund "common amenities" including Household Model units and a community/dance facility. Possible phasing of types of living units (independent living, assisted, and skilled nursing care) will be addressed.